The anticipation and joy of celebrating the date is often accompanied by unpredictable circumstances that we unconsciously or consciously know exist but do not accept as true. In everyday life, we take care of waiting for the date we celebrate, when in fact we should celebrate every day. Every day is written for us whether it is a good or unpleasant occasion.
In their Honorable Lodges, the Brothers showed with their diligent Work and selfless sharing of their knowledge, talents and emotions that value is woven in continuity like some well-tuned composition between each breath. With the opening of the winter semester of all Honorable Lodges, construction Work began. It was hinted that the anniversaries were coming, so preparations began, which went smoothly but with a lot of attention to every detail.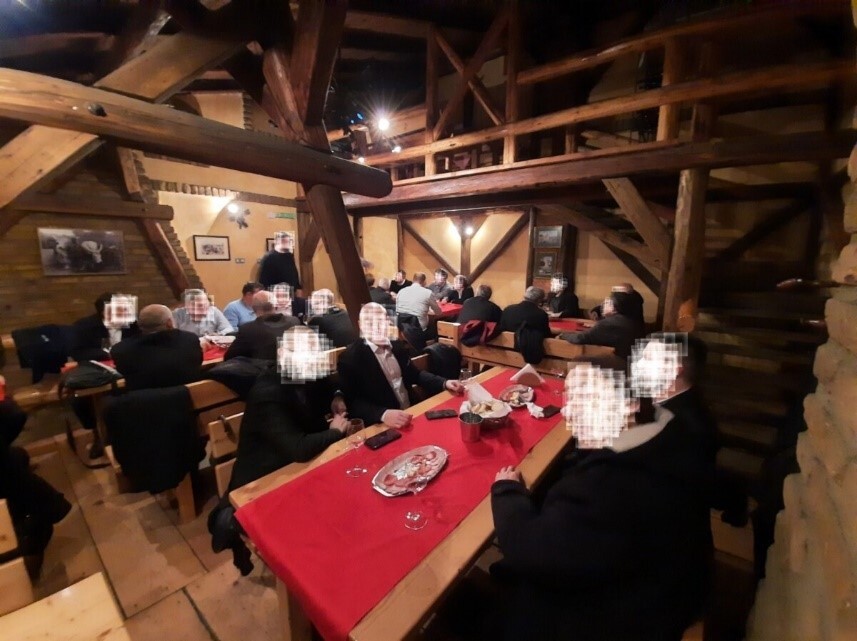 It is a special occasion to celebrate a triple jubilee, i.e. joint celebration of three Honorable Lodges. The Honorable Lodge "Light of the Balkans" celebrated 145 years since its foundation and 20 years since its re-establishment and reintroduction of light. The Honorable Lodge "Dositej" celebrated 20 years since its foundation and the introduction of light, and the light was introduced into the Honorable Lodge "Wisdom" 15 years ago. The joint Ritual Work of all three Lodges was held with guests from the Orient, but the Brothers without guest status who wished to be with us all the time, who came from Belgrade and Vienna. Ritual Work was held on December 11th 2021 at Orient Novi Sad, on the meridians that in all maps were guided by only one motto, which is FREEDOM, EQUALITY and BROTHERHOOD!
After an exciting and successful Work, WINE. Many songs were sung about that drink, many happy and even sad moments were collected like rainwater in every glass, every drop and the orientation and locality of Sremski Karlovac called for a wine tasting. The Brothers walked along the street of their Fraternal fathers, Stratimirović, Rajić, Radičević, Zmaj, Tekelia, and with firm steps they reached the family winery, where they thought for a moment that the truth is still hidden in wine and that it is an unfathomable form that flows and accepts its form. and essence. One Brother, known to the Brothers by his letters and thoughts translated into pen, left his impression in the book of impressions of the winery: "I will take the most beautiful tastes of wine with me in order to come back for new ones, and impressions to talk about them in action, because in wine there is truth and lies is not allowed."
Good luck, a hug between Brothers, who opens a bottle of wine so that with the opening of the wine bottle, the introduction to the toast: "I bought this bottle…" will be an intimate recollection of this wonderful time together with the Brothers at the jubilee celebration.